At Schultz Financial Group (SFG), we view wealth differently through our Four Capital approach. Our team works with you to build your wealth across Four Capitals – Financial Matters, Physical Well-being, Intellectual Engagement, and Psychological Space. This post focuses on Physical Well-being. 
Life is about moderation. Satisfying your sweet tooth shouldn't be off limits, but what if you used a few simple techniques this holiday season that could make your dessert of choice a little more nutritious? With a few baking alternatives, the treats you may have been avoiding can now be part of a well-balanced, nutritious eating pattern. We'll share some of our favorite substitutions with accompanying recipes below.
SUGAR
BAKING ALTERNATIVES:
Unsweetened Applesauce, Mashed Bananas, Honey or Maple Syrup
While sugar is the foundation of many baked goods, it is also one of the primary culprits for the development of chronic diseases, such as obesity, heart disease, and diabetes as well as cognitive decline and even some cancers. Try using unsweetened applesauce or mashed bananas instead of sugar (one for one swap). You'll add vitamins, minerals and a little extra fiber to your dessert.  
Honey and maple syrup are also options. While they are still sugar, you can typically get away with using a little less than if you were using table sugar. They also contain nutrients, such as antioxidants, that table sugar doesn't have.  
If you want to stick to regular sugar, try simply reducing the amount. Typically, you can reduce the amount of sugar in a recipe by 25% without noticeable differences. You may just need to add more liquid.
CREAM OR OIL
BAKING ALTERNATIVES:
Greek Yogurt or Nut Butter
Cream is composed of the high-fat layer skimmed from the top of milk, which means it packs unwanted saturated fat. Try using Greek yogurt instead of cream. Not only is Greek yogurt lower in fat (especially non-fat yogurt), but it is also higher in protein, which many baked goods lack (see our Healthy Rugelach recipe). You can also use Greek yogurt instead of oil. However, Olive and Canola oils, while higher in fat, contain less saturated fat than cream and more unsaturated, or "healthy" fat, so there are benefits to using oil. Use trial and error to determine what you like best and think of your diet as a whole – do you need more protein or healthy fat?
Note: it's not always a one-to-one ratio, so we recommend experimenting with different recipes!
WHITE ALL-PURPOSE FLOUR
BAKING ALTERNATIVES:
Black Beans, Almond Flour, Oats or 100% Whole Wheat Flour
Despite its widespread use, all-purpose flour is the most refined flour. In other words, it doesn't have a lot of nutrients to offer. The good news is that flour can be made from a variety of sources, so there are many options to choose from, all of which offer more nutrients, and fiber, than all-purpose.  
Try using almond flour instead of all-purpose flour. Not only will you reduce refined carbohydrates, but you'll add fiber, a little healthy fat, potassium and calcium – all of which all-purpose flour does not have. For 1 cup of all-purpose flour, use either ½ cup of almond flour or a mix of almond and whole wheat flour (¼ cup of almond and ¾ cup of whole wheat).
If you don't have flour on hand, but have rolled oats, you can make oat flour by placing your oats in a blender or food processor. Oat flour (one for one swap), is a whole grain flour, so it packs more fiber than all-purpose. You'll also gain the vitamins, minerals and fiber that whole grains are known for.  
If you're feeling adventurous, try using black or garbanzo bean purée (one for one swap). Black beans work well in brownies and garbanzo beans work well in blondies or a cookie pie (see our Deep Dish Cookie Pie recipe). In addition to the fiber and nutrients in beans, you'll also be adding protein.
BUTTER OR MARGARINE
BAKING ALTERNATIVES:
Fruit Purée, Avocado, or Nut Butter
Butter can be tricky to replace in baking, especially if you're using it for frosting. However, it's worth the effort given its high saturated fat content. Try using a fruit purée, such as mashed banana or applesauce (one for one swap). Avocado works well for icing, while nut butters will result in more dense baked goods (one for one swap). These substitutions can change the texture and flavor of recipes slightly, so you'll have to use trial and error to discover the textures and flavors that taste best to you.
In general, the goal with making baked goods a little healthier is to lower saturated fat, reduce added sugar and boost nutrients, without compromising taste. It's easier said than done, but with a little perseverance, you may discover a sweet treat you love!  
DON'T FORGET ABOUT YOUR FURRY FRIENDS!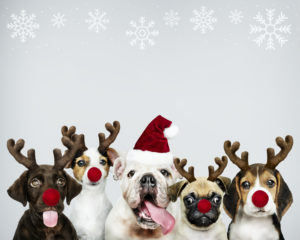 With all of this baking, we'd be remiss not to mention how easy it is to make healthy treats for your dog.  Check out this easy, homemade dog treat recipe!
REFERENCES:
Healthy Baking Substitutions. Mind Over Munch. https://mindovermunch.com/blog/healthy-baking-substitutions/
Rippe JM, Angelopoulos TJ. Relationship between Added Sugars Consumption and Chronic Disease Risk Factors: Current Understanding. Nutrients. 2016;8(11):697. doi:10.3390/nu8110697
Nicole Schultz Ninteau is the Physical Capital Resources Manager with Schultz Financial Group Inc.
Schultz Financial Group Inc. (SFG) is a wealth management firm located in Reno, NV. Our approach to wealth management is different from many other wealth managers, financial advisors, and financial planners. Our team of fee-only fiduciaries strives to help our clients build their wealth across four capitals: Financial Matters, Physical Well-being, Psychological Space, and Intellectual Engagement. We provide family office and wealth management services to clients located in Nevada, California, and other states. If you'd like more information, please check out our website or reach out to us via our contact page.